---
NEXT CONTENTS SUMMARY ISSUE HOME
The Uses of South Gaulish Terra Sigillata on the Roman Table. A study of nomenclature and vessel function
Geoffrey Dannell
Independent Researcher, Woodnewton PE8 5EB, UK. Email: geoffrey.brian.dannell@gmail.com
Cite this as: Dannell, G.B. 2018 The Uses of South Gaulish Terra Sigillata on the Roman Table. A study of nomenclature and vessel function, Internet Archaeology 50. https://doi.org/10.11141/ia.50.5
Summary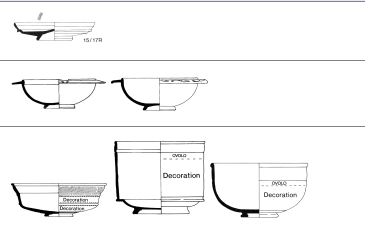 This article discusses the problems surrounding the matching of South Gaulish terra sigillata shapes to the descriptions used by their potter manufacturers and modern sigillata type-series produced by scholars in the late nineteenth and early twentieth centuries. It then goes on to postulate which shapes and types of vessel might have dressed a Roman table, and how those vessels might have been used. The discussion is quantified by examples of comparative frequencies occurring at the kiln site and on export sites within a historical framework of key consumer sites.
Go to article Table of Contents.

Keywords: Cup(s), dining, dish(es), forms, graffiti, La Graufesenque, shapes, tableware, terra sigillata, vessel(s)
This open access publication was funded by the Arts and Humanities Research Council.