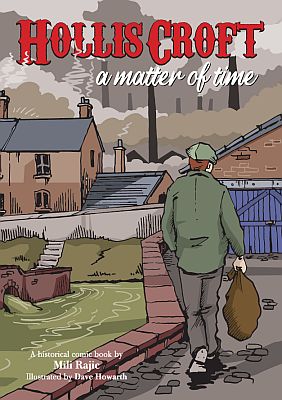 The comic, Hollis Croft. A Matter of Time, uses the factual historical and archaeological context of the site and the local landscape, but is a work of fiction. The comic is free to access and download in digital format but it is also available as quality print on demand.
Locations in the comic are as they were in 2017 and 1850. Hollis Croft in Victorian Sheffield has been reconstructed using the archive from the excavation, historic Ordnance Survey maps and other written records. The language in the book does not try to illustrate the local accent and most certainly does not reconstruct Yorkshire slang in Victorian England. Some words in the text would have not been in use at that time, but the places (the streets and the buildings) are as close as possible to those of the mid-19th century. All names and characters are a product of (Mili's) imagination apart from Pablo Fanque (the well-known circus owner who did bring his show to Sheffield) and Madame Naomi (a palmist who lived on nearby West Street) who are historical figures . All characters are used fictitiously.
Although archaeology has been an inspiration for illustrated news and comic books for centuries, it is only relatively recently that archaeologists have started to use comics to communicate, educate, outreach and interpret (See, for example, the work of John Swogger, Hannah Sackett, Lydia Wysocki, and Ben Haggarty/Adam Brockbank). We have come to realise that comics are not (just) for children, mortals can be superheroes too, and the story does not have to be

to be full of action and excitement. Comics have a huge potential in connecting with people who would not usually engage with archaeology as well as connecting with people who would not usually engage with the visualisation of an archaeological context. Although Hollis Croft. A Matter of Time is not the first archaeological comic, neither, let us comic lovers hope, will it be the last.
Just as grey literature directly links with the actual site archive, an X on the 12 full page illustrations in the online viewer marks the 'clickable spot'. When selected, these take the reader straight to the archive or other documents and images concerning the site and the project. Our avant-garde, 'ninth-art' publication presents the history and the archaeology of the site and its archives all in one, and in a different, interesting and more accessible way. Alongside computers, video games and television, the future belongs to visual rather than verbal sharpness. This comic is not only new but a matter of the future.
View the comic online or use the navigation bar (top) to go to other sections of report.