---
PREVIOUS NEXT CONTENTS ISSUE HOME
Central zone, Open Area 17 - Period 2B
Both continuity and change are evident in the mid-1st century clearance of Open Area 1 and the creation of its replacement, Open Area 17 (Figure 35). The initial groundworks of this are described here, together with those built elements that precede the construction of the new temple complex. Subsequent structural development within the enclosure is described in Central zone.
OA17, as defined between Roads 2, 3 and 4, is an elongated enclosure that gradually tapers to the west. Although some 150m of its east-west extent is exposed within Development Areas A2 and A3, no subdivisions of its interior are apparent during Period 2B. The convergent routes of Road/tracks 3 and 4 make it likely that the eastern end of OA17 occurs within the western part of uninvestigated Development Area A3, though this is not apparent on its pre-excavation plan.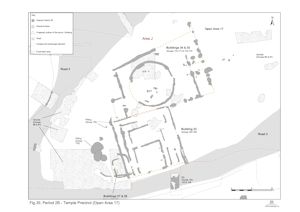 Most occupying features are located at its west end (Excavation Area J). Although investigation is admittedly fairly limited further east (within Areas L and M), it would appear that this was largely open space.
Levelling/make-up deposits (Group 96)
The formation of OA17 is preceded by the clearance of the Period 2A buildings and levelling of the pitting that occupied the vicinity (nominally Open Area 1). Deposits of charcoal-rich silts that seal or form the upper fills of many such pits probably represent piecemeal survival of a destruction horizon associated with this event. Elsewhere, this levelling deposit has been presumed truncated when this part of the terrace was stripped down to natural gravel prior to laying the roads and surfacing the central zone enclosure interiors. In some cases, these deposits are virtually the only 'fills' of the earlier pits, which implies that they are still open when the destruction episode occurs. These deposits and other preparatory dumps (Group 96) are treated as make-ups for the creation of Open Area 17.
Finds within the destruction deposits are not prolific and largely restricted to pottery and small amounts of bone. Some sherds are in Roman fabrics, but there is earlier pottery present also. A date in the first half of the 1st century AD is indicated. A quantity of slag in deposit 18961 may be a direct product of the destruction episode.
Gravel surfacing (Groups 97, 98)
Presumably following the imposition of the road infrastructure, a gravel surface (Group 97), formed from up to 0.10m thickness of graded material, is subsequently laid across the interior of OA17. Nowhere does this surface seal earlier land surfaces or remnant soils of any kind, invariably being laid directly onto the natural gravel, or onto sand or clay make-up deposits. The upper parts of some Period 2A features had clearly been truncated, perhaps inferring a degree of levelling is carried out when the topsoil is removed.
The gravels best survive later occupation and eventual machine truncation in the south-western, northern and central parts of OA17. Although the surface is only revealed by excavation in a number of discrete locations, it is likely to form a single, extensive gravel surface over the western part of enclosure. Laid gravels (Group 98) are also present c. 100m east of the junction of Roads 2 and 3 (which marks the western apex of OA17), but beyond this point the gravel surface seems to diminish. Very few finds are present within the gravel surface (and many of those that are may well be residual), but Roman fabrics are present.
Buildings 27 and 28 (Groups 160, 161)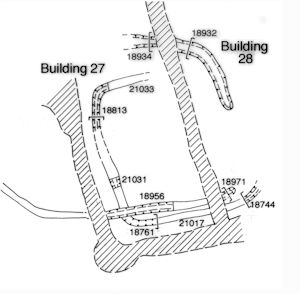 Remains of an early Period 2B building and its apparent replacement can be seen to cut the newly laid gravel surface and to be in turn overlain by one of the principal structures of the emergent Period 2B temple complex (Building 33).
Located near the west end of the enclosure and close to the edge of Road 3, Building 27 comprises slot 25064 (Group 160), a 0.20m wide and 0.25m deep cut that defines three sides of a small probably square ?structure, some 4.5m in length. Any trace of the eastern wall of Building 27 has been removed by later Building 33. A second slot (25066), of similar proportions, lay just to its north. This curving length of foundation slot could constitute the north-eastern corner of the same building. Alternatively, combined with slot 25067 (Group 161), it could form a second phase of a sub-rectangular building measuring some 8.0m by 5.0m - Building 28. Whether these features are beam-slots, drip- or drainage gullies is uncertain. Neither building is clearly dated, as very little pottery is present in the fills.
It is difficult to interpret either of these buildings in the context of the subsequent development of the temple complex and they may well have been flimsy and short-lived structures - perhaps even accommodation or workshops associated with early temple construction?
---
PREVIOUS NEXT CONTENTS ISSUE HOME
Internet Archaeology is an open access journal. Except where otherwise noted, content from this work may be used under the terms of the Creative Commons Attribution 3.0 (CC BY) Unported licence, which permits unrestricted use, distribution, and reproduction in any medium, provided that attribution to the author(s), the title of the work, the Internet Archaeology journal and the relevant URL/DOI are given.
Terms and Conditions | Legal Statements | Privacy Policy | Cookies Policy | Citing IA
Internet Archaeology content is preserved for the long term with the Archaeology Data Service. Help sustain and support open access publication by donating to our Open Access Archaeology Fund.